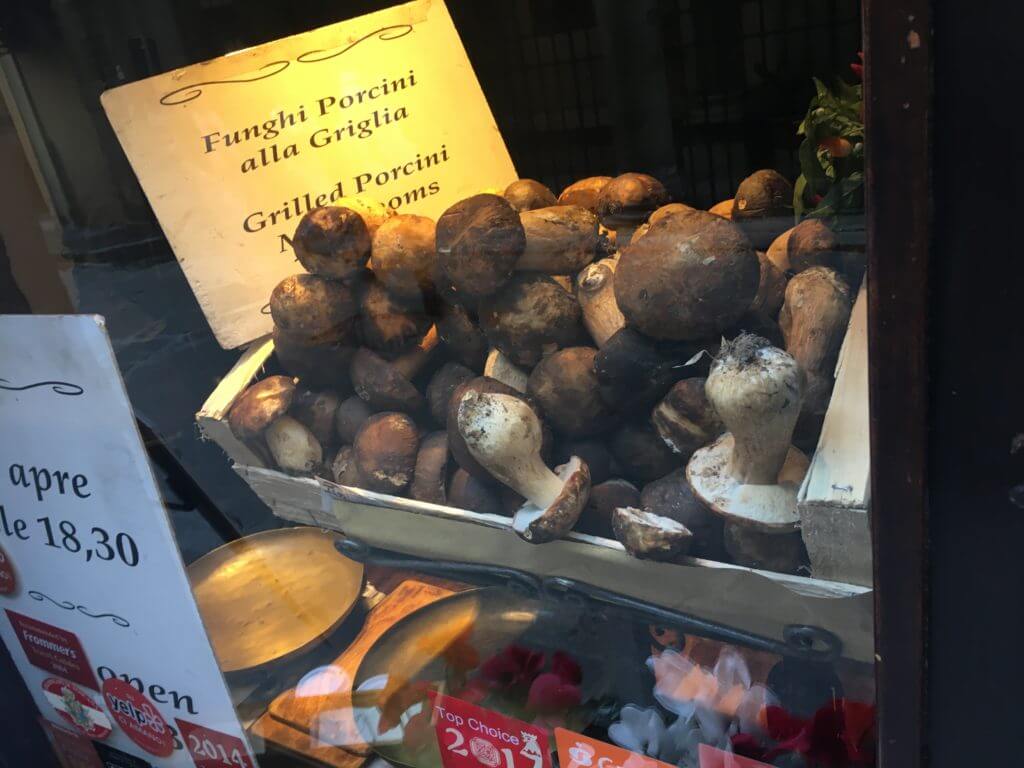 Porcini mushrooms are a delicious reason to visit Italy in the autumn. I love visiting Italy during harvest time. There are plenty of fresh vegetables. The vineyards are harvesting grapes. But most importantly, there are fresh porcini.
Sometime mid-autumn, after the rain comes, mushroom hunters can be seen around Tuscany parking their trucks and heading out into woods with sacks or baskets. Later in the day, when Porcini are plentiful, you'll see pick-up trucks parked outside of town with boxes for sale.
As I usually stay in Airbnb's and I always bring my own kitchen knives, I am excited to buy them roadside. However, if you're not in the mood to cook for yourself, you'll see them on the daily special menus at local restaurants and trattoria.
Porcini are large white fleshed mushrooms. If you purchase them to cook yourself, you'll get about 50% – 50% cap and stem. As the caps are considered the best, I usually cook them separately. I find porcini, during the season sell for about 15 EU per Kilo, that's around $6 per Pound, so, they are quite a deal.
There are many ways to prepare porcini mushrooms. There are sauces, with tomato and herbs. There are deep fried mushroom pieces. I've even had a saute of porcini and potato. All these just mask the delicate flavor and texture of the mushroom, (though deep fried with a marinara dipping sauce is pretty good).
My favorite porcini method is derived from my favorite trattoria porcini, so here I'll direct you to both. Antica Trattoria Papei just behind the Campanile in Piazza del Campo, Siena serves Porcini prepared with nothing more than the "Tuscan Holy Trinity", olive oil, salt, pepper. They are so good, the first time I ordered a contorni, I immediately ordered a second round.
The preparation is simple. Clean the cap, cut off the stem, rub it with olive oil, salt, and pepper. In a cast iron skillet, heat olive oil. It should begin to thin but not smoke. Neve let olive oil smoke. Lay the whole porcini cap top down in the hot oil, and cook for about five minutes over low heat. turn it over, cook for another five minutes. Turn it one more time, and continue to cook until the cap is soft through and through.
When they serve this dish at Antica Trattoria Papei, the porcini comes out like a savory creme brulle. The flesh is almost like custard, the cap is crispy on top.
Truth be told, I haven't been able to achieve the crispiness of the Papei preparation, but I've matched the flavor and texture of the flesh, and it is a peak taste experience.
Now, I don't travel with a cast iron skillet, though I'm lucky to find one in the Airbnb's where we stay sometimes. However, I do carry my 8″ French Knife and a Bread Knife wrapped in two or three cotton kitchen towels…we all have our priorities.