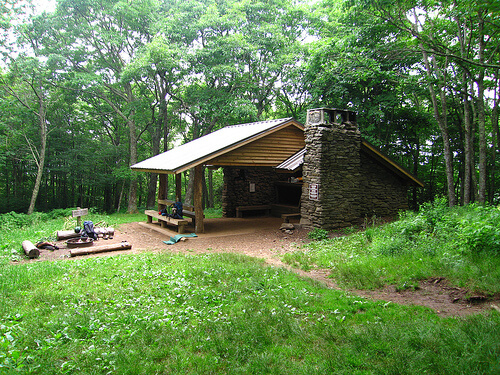 When March arrives, most of the country begins to sprout and blossom. This is not so true in the North Country. By mid-March, the hills are still covered in several feet of snow, and there might still be a few blizzards before spring. During my years in New Hampshire, I found that at that point, I was ready for a break. The needed break came from 3-day music festival in North Carolina, The Union Grove Fiddler's Contest.
When the time came, I packed my trusty red Kelty with my sleeping bag, a change of clothes or so, some eating utensils, and a book or two and walked up to the Southbound entrance ramp of Route 93. The shoulders aren't plowed, so, you had to stand pretty much in the road way to thumb a ride. That didn't matter so much however, cause people were driving slow on the crusty snow and ice.
It didn't take too long to get my first ride south. As long as someone was going through the White Mountains, and on at least as far as Plymouth, I was set. It wasn't a good idea to take a ride into the mountains and get dropped off in Franconia Notch. I had learned the year before during a winter camping trip to the Presidential Range that trying to sleep out in that bitter cold was uncomfortable and pretty stupid.
It was a six hour drive to New York City, and I hoped to get there, where I could spend the night at my sister's house or with friends. 93 led to 91, 91 to 95, and finally to the east side of the George Washington Bridge where I could take the A-train down near Columbia University, where Meg was living at the time.
The next morning, I walked across the George Washington Bridge and found a small ramp onto 95 South in Fort Lee, New Jersey. There wasn't much hope of getting a long ride from this commuter spot, but, I had to get out of the Metropolitan Area to find a safe place to hitch. As luck would have it, by the time I got into Virginia the next day, a driver was going straight into Waynesboro.
Now the Shenandoah National Park wasn't my original destination, but I had a few days before the Fiddler's Contest began, and I've always been a sucker for those lean-to campsites that are build up and down the Appalachian Trail.
I grabbed some provisions at a local market and started hiking North. There was a lean-to several miles out of town, so, I didn't have to hope for a ride, I could just walk north into Shenandoah National Park.
I had left winter long behind. The fields were lush green, the trees were budding, the streams were flowing. It was like traveling two months in three days, going from New Hampshire to Virginia. I still had a few hours of daylight, so I climbed into the Blue Ridge and enjoyed some of the most beautiful hiking on offer.
I got to my destination just as it started to get dark. I shouldn't have been too surprised to discover someone was already staying at the lean-to. These shelters are prize destinations for through hikers on the AT.
What did surprise me was that the guy I met, like me, had arrived at the shelter with the intention of enjoying some solitude and scenery for a few days. I was an exile from the snow, a lost boy from New Jersey, and a sometime tree stump philosopher. He was a Mennonite from Pennsylvania
We were about the same age, but he was experiencing a tradition shared by all young men of his faith. It was news to me, but around age 18, a Mennonite boy is given the opportunity to leave the church and community, and strike out into the wide world. Through the process, he must decide whether he wants to make a life on his own in the outside world, or to return to his community and commit to the simple life that world offers.
We ended up spending a few nights together in that shelter overlooking the Shenandoah Valley. Most of the time, we left each other alone, but in the evenings we would sit and talk about our different but analogous journeys.